It is often said that a paper's value is determined by the individual who holds it. To a child in the first grade, the paper would mean a canvas to run the crayons on. An office clerk would consider paper as a sheet on which a report is printed. To an artist, it could be the means for delivering a message. This message can either be in the form of a sculpture or a painting. 
There are certain artists in this world who are capable of something exceptional. Such individuals can transform any ordinary material into an astonishing piece of art. Here, we've presented some of the talented paper sculpture artists who give life to ordinary pieces of paper:
1. Jeff Nishinaka
This artist has been a paper sculpture artist for three decades. Jeff Nishinaka earned an undergraduate degree from the University of California, Los Angeles. He then went on to pursue his passion for the craft at the Art Center College of Design. This is a renowned art school in California. Although he was interested in painting, Jeff's experiences in the Art Center took him in a different direction. 
He decided to enhance his talent by handling several elements, which included paper. Jeff realized that paper was quite a flexible medium. This led him to create some amazing masterpieces by shaping paper while maintaining its character in the process. Paramount Pictures, Coca Cola, and Visa are some of the brands that have benefited from his works.
2. Yulia Brodskaya
A brilliant paper sculpture artist from Russia, Yulia developed an interest in origami, textile painting, and collage. This happened even before she underwent a formal education in art. After moving to the United Kingdom, she took her master's degree at the University of Hertfordshire. She incorporated three of the things in her sculptures that she loved the most. 
They were paper, intricate handicrafts, and typography. Some truly magnificent projects were thus born. Her hard work paid off as she went on to work with some of the world's largest brands. Hermes, Nokia, and Starbucks were some of her clients.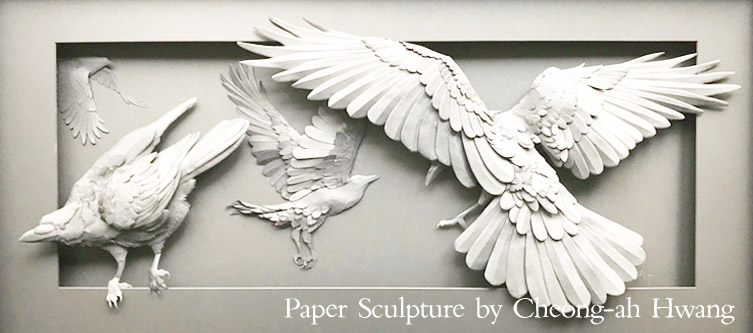 3. Cheong-ah Hwang
She was born and raised in South Korea. When it comes to the manipulation of paper, Cheong-ah Hwang has a natural gift in creating art. Cheong-ah Hwang was fascinated by this medium from a young age. As her parents had a printing shop in her hometown, she had access to different kinds of paper. 
This unleashed her inner potential to make ornate pieces of art out of them. She now lives in the United States and has become quite famous owing to her marvellous skills. One of her famed projects was a 2010 campaign for Kickstarter. It is an organization that provides funds for creative programs. 
She reproduced her complicated pieces through this project and they were sold at lower prices. She is also renowned for creating a cover image for Philip Pullman's book, Grimm Tales for Young and Old.
4. Alexei Lyapunov and Lena Ehrlich
With the use of paper, this duo is focused on creating 3D figures and settings. Alexei Lyapunov and Lena Ehrlich are from Russia. They utilize cutting and slicing tools, rulers, tweezers, and metal wirings while making their elaborate artworks. Some of their popular paper sculptures are of music icons, such as Elvis Presley, Michael Jackson and The Beatles. 
They also received a lot of praise for 'People Too', their elaborate 3D miniature installations. It depicts some mundane scenarios, such as aeroplane travel and an office setting. These pieces of paper sculpture are laced with vibrant colours and a sense of humour.